Home
/
Colleges
/
College of Basic Sciences And Humanities
/
Department of Microbiology
/
Profile
---
Department of Microbiology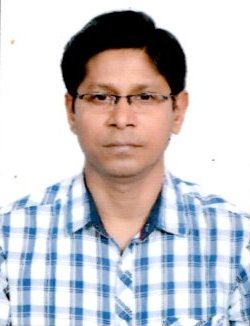 Dr. Ajay Veer Singh
| | |
| --- | --- |
| DESIGNATION: | Associate Professor |
| QUALIFICATION: | Ph.D., NET |
| SPECIALISATION: | Rhizosphere Microbiology |
| EMAIL: | ajaygbpuat[at]gmail[dot]com |
| CONTACT NO.: | 9719019798 |
---
Completed Research Projects:
Exploration of plant growth promoting bacteria for biofortification of zinc and iron in wheat and soybean crops (UGC Funded w.e.f. April 2015- April 2017)
Characterization of plant growth promotory rhizobacteria for zinc and iron assimilation in wheat for reducing micronutrient malnutrition (University Funded 2015)
Functional characterization of endophytic bacterial population of Aloe vera and Ocimum sanctum from Pantnagar and its research centers (University Funded 2014)
Selected Research Publications
Rahul Yadav, Ajay Veer Singh, Manish Kumar and Shweta Yadav. 2016. Phytochemical analysis and plant growth promoting properties of endophytic fungi isolated from tulsi and aloe vera. Int. J. Agricult. Stat. Sci. 12(1), 239-248.


Rahul Yadav, Ajay Veer Singh, Samiksha Joshi and Manish Kumar. 2015. Antifungal and enzyme activity of endophytic fungi isolated from Ocimum sanctum and Aloe vera. African Journal of Microbiology Research. 9(29): 1783-1788.


Ajay Veer Singh, Ramesh Chandra & Reeta Goel 2013. Phosphate solubilization by Chryseobacterium sp. and their combined effect with N and P fertilizers on plant growth promotion. Archives of Agronomy and Soil Science, 59(5): 641-651.


Ajay Veer Singh, Abhinay Sharma and Bhavdish N. Johri. 2012. Phylogenetic profiling of culturable bacteria associated with early phase of mushroom composting assessed by amplified rDNA restriction analysis. Ann Microbiol. 62:675–682.


Ajay Veer Singh, Shachi Shah and Birendra Prasad. 2010. Effect of phosphate solubilizing bacteria on plant growth promotion and nodulation in soybean (Glycine max (L) Merr. Journal of Hill agriculture 1: 35-39.
STUDENTS GUIDED
Student Name
ID. No.
Advisor Name
Thesis Title
Year of Completion
M.Sc. (Microbiology)
Ms. Samiksha Joshi
35974
Dr. Ajay Veer Singh
Isolation and Characterization of Endophytic Bacterial Population of Aloe vera and Ocimum sanctum
2014
Mr. Rahul Yadav
36030
Dr. Ajay Veer Singh
Isolation and Characterization of Endophytic Fungal Population of Aloe vera and Ocimum sanctum
2014
Mr. Satish Chandra Pandey
45489
Dr. Ajay Veer Singh
Isolation and Characterization of Plant Growth Promoting rhizobacteria for Biofortification of iron and zinc in wheat
2015
Ms. Ruchi Sankhwar
45497
Dr. Ajay Veer Singh
Screening of Plant Growth Promoting Rhizobacteria for Zinc and Iron Assimilation in Wheat
2015
Ms. Saloni Rawat
47003
Dr. Ajay Veer Singh
Zinc and Iron Biofortification Strategies through Plant Growth Promoting Rhizobacteria in Wheat
2016
Ms. Hina Parveen
48146
Dr. Ajay Veer Singh
Siderophore Production and Zinc Solubilization Potential of Wheat Rhizosphere Bacteria and their Assessment on Plant Growth Promotio
2017
Ms Roshni
48127
Dr. Ajay Veer Singh
Microbial consortia development of siderophore producing and zinc solubilizing bacteria and their assessment on plant growth promotion
2017
Mr. Amir Khan
49415
Dr. Ajay Veer Singh
Characterization of drought tolerant plant growth promoting rhizobacteria and their evaluation on wheat
2017
Ms. Vinita Gouri
49694
Dr. Ajay Veer Singh
Growth promotory effect of drought tolerant bacteria on wheat crop under drought stress
2017