Home
/
Colleges
/
College of Agriculture
/
Department of Agrometeorology
/
Profile
---
Department of Agrometeorology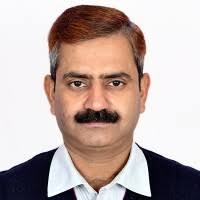 Dr. Ajeet Singh Nain
| | |
| --- | --- |
| DESIGNATION: | Professor & Head |
| QUALIFICATION: | Ph.D. |
| SPECIALISATION: | Agrometeorology |
| EMAIL: | nain_ajeet[at]hotmail[dot]com |
| CONTACT NO.: | 9411159871 |
---
Research projects
FASAL, NABARD Project
Research areas/ Areas of interest
Agrometeorology, Remote Sensing, GIS and Crop Modelling, Climate change, Micrometeorology, Natural Resource Management, Electronics in Agriculture, Precision Farming
Selected Research Publications
S Sudhishri, AS Nain, A Kumar, D Kumar, S Kumar, JK Singh. (2017). Land use/land cover change analysis in treated watershed using RS and GIS, Indian Journal of Soil Conservation, 45 (3), 279-287.


N Maitreyie, P Susan, AS Nain, S Praveen, G Akansha, C Akansha (2017). Remote sensing based estimates of methane emission from summer paddy rice cultivation in Udham Singh Nagar District in Uttarakhand, India. Environment and Ecology, 35 (4), 2713-2717


N Pareek, S Roy, S Saha, AS Nain (2017). Calibration & validation of Aquacrop model for wheat crop in Tarai region of Uttarakhand, Journal of Pharmacognosy and Phytochemistry, 6 (5), 1442-1445
N Kumar, AS Nain, S Kumar (2017). Impact assessment of climate change through CROPGRO and CERES model for tarai region of Uttrakhand. Indian Journal of Soil Conservation, 45 (1), 12-20


N Ramu, MS Pal, AS Nain (2016). Estimation of current fallow using remote sensing technology in Udham Singh Nagar District of Uttarakhand. International Journal of Basic and Applied Agricultural Research, 14 (3), 257-260
Other Information
Officer Incharge- Central Instrument Laboratory
Incharge, GIS, EDUSAT, GHG, Geoinformatics, Remote Sensing and Analytical Laboratory I & II.
Incharge AET
Coordinator ISRO's outreach Programmer Remote Sensing GIS & GP3
Group Leader Geoinformatics Consortion.
Programme Director Center of Excellence Remote Sensing & GIS in Agriculture supported by USAC, Uttarakhand.
Chairman, Website Maintenance Group, College of Agriculture.