Home
/
Colleges
/
College of Agriculture
/
Department of Horticulture
/
Profile
---
Department of Horticulture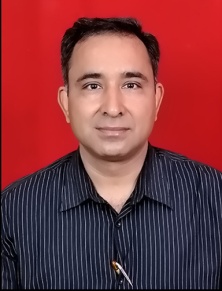 Dr. Ajit Kumar
| | |
| --- | --- |
| DESIGNATION: | Senior Research Officer |
| QUALIFICATION: | Ph.D. |
| SPECIALISATION: | Floriculture and Landscaping, Plant Tissue Culture, Medicinal and Aromatic Plants |
| EMAIL: | ajitflori[at]gmail[dot]com |
| CONTACT NO.: | 9412451262 |
---
Research projects
All India Coordinated Research Project on Floriculture (Funded by ICAR).
Research areas/ areas of interest
Germplasm collection and evaluation, Plant tissue culture, protected cultivation, standardization of agro techniques of flower crops and medicinal and aromatic crops (MAPS), plant nutrition and plant growth regulators
Selected Research Publications
Ajit Kumar; Kumar, M.; Ghosh, S.; Tripti, T. and Bhardwaj, S.B. 2017. Effect of weed management practices in chrysanthemum (Dendranthema grandiflora T.) under Tarai conditions of Uttarakhand. International Journal of Current Microbiology and Applied Sciences, 6(8): 3028-3034. NAAS Rating: 5.38.


Trivedi, H., Kumar, P., Ajit Kapoor, and Parween, S. 2016. Bio-enhancer: A potential input for flowering and post-harvest life of rose (Rosa hybrida) cv. Grand Gala. Indian Journal of Agricultural Sciences, 86(8): 1092-1096.


Bohra, M. and Ajit Kumar. 2014. Studies on effect of organic manures and bioinoculants on vegetative and floral attributes of chrysanthemum cv. Little Darling. The Bioscan, 9(3): 1007-1010.


Ajit Kumar, Raghava, S.P.S., Singh, S.K. and Misra, R. L. 2007. Factors affecting in vitro culture initiation and shoot multiplication in male sterile African marigold (Tagetes erecta L.) lines. Indian Journal of Horticulture, 64 (1): 67-72.


Ajit Kumar, Singh, S.K., Sharma, S.K., Raghava, S.P.S., and Misra, R. L. 2004. Comparison of seed derived with micropropagated male sterile plants of Tagetes erecta L. for F1 hybrid seed production. Journal of Horticultural Science and Biotechnology, 79 (2): 260-266.
Other Information
Incharge, e-tendering cell, College of Agriculture