Home
/
Colleges
/
College of Agriculture
/
Department of Horticulture
/
Profile
---
Department of Horticulture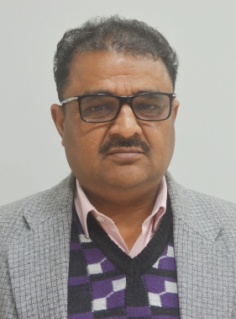 Dr. Satish Chand
| | |
| --- | --- |
| DESIGNATION: | J.R.O. |
| QUALIFICATION: | Ph.D. (Floriculture) |
| SPECIALISATION: | Floriculture |
| EMAIL: | sc_1966[at]rediffmail[dot]com |
| CONTACT NO.: | 9412120885 |
---
Research projects
All India Coordinated Research Project on Fruits
Research areas/ areas of interest
Litchi crop / Floriculture
Selected Research Publications
Satish Chand, Amit Bhatt, J. C. Chandola, Ranjan Srivastava, Rajesh Kumar and Vishal Nirgude. 2017 Effect of chemicals and cincturing on flowering, fruiting and yield of litchi cv. Rose Scented. International Journal of Chemical Studies.5(6):244-247.


Neelam thakur, B D Bhuj, Srivastava, Ranjan and Chand, S, 2016. Assessment of genetic variability and correlation in gladiolus germplasm. Progressive Horticulture, vol. 48(1) June 2016.page 490-496.


Chand, S, Sonalee, Srivastava, Ranjan and D S Mishra 2014. Response of IBA concentrations and application dates on the performance of air layering in litchi cultivars. International journal of basic and applied agriculture research, Pantnagar vol. 12(3) Sept – Dec 2014.


Srivastava, Ranjan and Chand, S. 2011. Effect of foliar application of zinc on flowering and nutrients contents in tuberose (Polianthus tuberose L) under tarai conditions. The Horticulture Journal, Nadia, West BengalVol. 24(2).Page.100-104.


Chand, S., Misra, K.K and Rawat ,S.S.2006. Rooting and sprouting behavior of stem cuttings of Bougainvillea cultivars in relation to IBA and Planting Time. Pantnagar Journal of Research, 4 (1): 57-60.
Other Information
24 year experience of floriculture and landscaping