Home
/
Colleges
/
College of Agriculture
/
Department of Horticulture
/
Profile
---
Department of Horticulture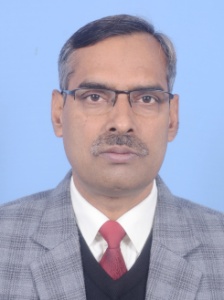 Dr. V.K. Rao
| | |
| --- | --- |
| DESIGNATION: | Professor |
| QUALIFICATION: | Ph.D. (Horticulture) |
| SPECIALISATION: | Horticulture (Floriculture/ Pomology) |
| EMAIL: | vkraohort[at]gmail[dot]com |
| CONTACT NO.: | 9411142806 |
---
Research projects
Associated with All India coordinated Research Project on Floriculture
Co-PI in Bio-efficacy and phytotoxicity of Taqat 75% (captan 70% Hexconazole 5% WP) against powdery mildew alternaria and premature leaf fall of apple
Co-PI in Conservation of Biodiversity and bio-farming oriented rural livelihood through biotechnological approach-based micro- enterprising among SC/ST farmers to promote 'Eco-friendly Rural Villages' in Udham Singh Nagar Distt. of Uttarakhand.
Research areas/ areas of interest
Floriculture
Selected Research Publications
Rao, V.K and Pathak, R.K. 1996. Effect of mulches on soil properties in aonla orchard established on sodic land. Indian Journal of Horticulture, 53 (4): 251-254.


Rao,V.K. and Singh, H.K.2006. Response of sodicity and salinity levels on vegetative growth and nutrient uptake of aonla genotypes. Indian Journal of Horticulture, 63 (4)359-364


Rao, V K and Lal, Bharat 2010. Evaluation of promising genotypes of strawberry under Garhwal conditions. Indian Journal of Horticulture, 67 (4): 470–474


Punetha, Parul, Rao, V K and Sharma S K 2011. Evaluation of different chrysanthemum (chrysanthemum morifolium Ramat.) genotypes under mid hill conditions of Garhwal Himalaya. Indian Journal of Agricultural Sciences, 81 (9): 830-833.


Kole, Chittaranjan, Olukolu, Bode A., Phullara Kole, Rao, Virendra K., Bajpai, Anju, Backiyarani, S., Singh, Jogendra, Elanchezhian, R. and Abbott, Albert G.2012.The First Genetic Map and Positions of Major Fruit Trait Loci of Bitter Melon (Momordica charantia). Journal of Plant Science & Molecular Breeding.1 (1):1-6.