Home
/
Colleges
/
College of Fisheries
/
Department of Aquaculture
/
Profile
---
Department of Aquaculture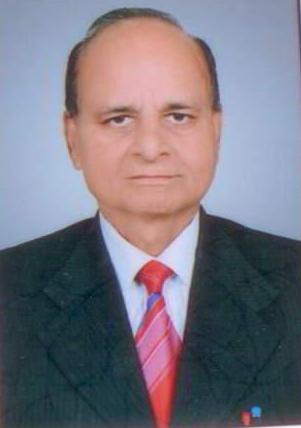 Dr. Rikhi Singh Chauhan
| | |
| --- | --- |
| DESIGNATION: | Professor & Head |
| QUALIFICATION: | M.Sc. , Ph. D. |
| SPECIALISATION: | BFresh Water Aquaculture, Fish Parasitology |
| EMAIL: | rikhichauhan[at]rediffmail[dot]com |
| CONTACT NO.: | 9411159955(M) (M) |
---
Research Area/ Area of Interest
Aquafarming, Project Management, Phytobiotic incorporated fish feeds
Research Projects
Breeding and culture of Indian major carps in different agro-climatic conditions of Himachal Pradesh(Principal Investigator) funded by Himachal Pradesh Government.(7.0 lakh)
Rainbow trout farming in Himachal Pradesh (Co-Investigator) funded by Indian Council of Agricultural Research.(3.5 lakh)
Development of duck-cum-fish farming technology (Co-Investigator) funded byG. B. Pant University of Agriculture and Technology.(0.80 lakh)
Trials on growth of golden mahseer in pond ecosystem (Principal Investigator) funded by G.B. Pant University of Agriculrure and Technology.(0.20 lakh)
Development of integrated fish-livestock-crop farming system (Co-Investigator) funded by U.P. Council of Agricultural Research.(5.0 lakh)
Aquaculture Management in Coldwaters- Evaluation of mahseer fishery potential, its farming feasibility for conservation in Himalayan region (Co-investigator) funded by Indian Council of Agricultural Research (NATP).(29.53 lakh)
Dissemination of organic recycling based fish-duck integrated aquafarming technology to fish farmers belonging to SC/ST and weaker section of tarai region of Uttaranchal (Principal Investigator) funded by Department of Biotechnology, Govt. of India.(13.53 lakh)
Dissemination of scientific fish farming technology to the fish farmers belonging to SC/ST and weaker sections of Champawat District of Uttarakhand (Co-Investigator) funded by Department ofBiotechnology, Govt. of India.(19.0 lakh)
Dissemination of bioresource based culture and seed production technology of murrels to fish farmers belonging to SC/ST and weaker section of tarai region of Uttarakhand (Co-Investigator) funded by Uttarakhand Council of Science & Technology.(15.0 lakh)
Niche Area Excellence Programme on quality production of major freshwater fishes for sustainable farming (Co-Investigator) funded by Indian Council of Agricultural Research.(450.0 lakh)
Biomanipulation of Lakes Nainital and Naukuchiatal for ecosystem restoration (Co-investigator) funded by Government of Uttarakhand.(57.77 lakh)
Evaluation of growth promoting and immunostimulatory effects of Guduchi, Tinospora cordifolia, in Amur carp (Cyprinus carpio haemopterus) (Principal Investigator) funded by G. B. Pant University of Agriculture and Technology.(0.50 lakh)
Dissemination of Fish Products Preparation Technology for Sustainable Livelihoodof Rural Folk in Districts Udham Singh Nagar and Nainital (Principal Investigator) funded by Uttarakhand Council of Science & Tech. (7.80 lakh)
Technological empowerment of resource poor farmers through fish seed production technology for sustainable livelihood in District Udham Singh Nagar, Uttarakhand (Principal Investigator) funded by Department of Biotechnology, Govt. of India.(14.77 lakh)
Assessment of growth promoting and immunostimulatory potential of plant based biomaterials in rohu, Labeo rohita (Principal Investigator) funded by G. B. Pant University of Agricultureand Technology.(0.50 lakh)
Selected Research Publications
Anita, Maneesh Dubey, Akansha Khati and R. S. Chauhan. Immunostimulatory and growth promoting potential of Tinospora cordifolia (Thunb.) Miers on fingerlings of Amur carp. Indian Journal of Experimental Biology 54, 2016: 659-663.


R.S.Chauhan. Growth performance, length-weight relationship, body condition and carcass composition of Cyprinus carpio fed with poultry droping incorporated diets. J.Ecophysiol.Occup.Hlth. 14(1&2), 2014 : 103-109.


R.S. Chauhan. Seasonal cycle, survival and polyparasitic infection of cestodes in Indian hill-steam fishes. J. Inland Fish. Soc. India 20 (2), 1988: 24-29.


Sandeep, K. Malhotra and R. S. Chauhan. Bionomics of hill-stream cyprinids. IV. Length-weight relationship of Labeo dero (Ham.) from India. Proc.Ind. Acad. Sci. (Anim. Sci.) 93 (5), 1984: 411-417.


Sandeep, K. Malhotra and R. S. Chauhan. Distribution of cestodes in the digestive tract of Indian hill-stream fishes. Korean J. Parasit. 22 (2), 1984: 238-241.
Other Information
Click Here