Home
/
Colleges
/
College of Veterinary and Animal Sciences
/
Department of Veterinary Public Health & Epidemiology
---
ABOUT US

ACADEMICS

FACILITIES

FACULTY

PG STUDENTS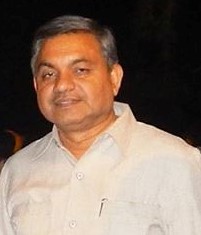 Profile
Dr. Ajay Kumar Upadhyay

Head,

Department of Veterinary Public Health & Epidemiology,

College of Veterinary and Animal Sciences




Contacts

Phone: 9411195407

Email: ajay[dot]akup[at]gmail
[dot]com
About Us
Research:
Environmental Hygiene
The pond and canal waters were found to de highly polluted.
Study revealed that slaughter house environment was responsible for carcass containation.
Survey conducted in and around pantnagar revealed extensive use of pesticides such as chlorpyrifos, endosulphan, deltamethrin, lindane and monocrotofos by farmers.
Pesticide (chlorpyrifos & endosulphan) residues were found in varying concentrations in milk, meat, feed/fodder, fish and egg samples.
Residues of tetracycline were found in foods of animal origin.
Colibacillosis
Calf origin enterotoxin is of heat-stable (ST) type.
ST-type toxin partially characterized.
Read More..
We have all required Undergraduate and Postgraduate research facilities like PCR, Real time PCR, HPLC, Gel Documentation System, Spectrophotometer, Inverted research microscope with dark field illumination, fluorescence and motorization, Incubator, Co2 incubator, Bio-safety cabinet, Two autoclave, Oven, Two Gel electrophoresis unit, ELISA reader with washer, Refrigerated centrifuge, BOD incubator and several refrigerators.
FACULTY NAME
---
DESIGNATION

Professor & Head

QUALIFICATION

Ph.D.

SPECIALISATION

Veterinary Public Health and Epidemiology
EMAIL

ajay[dot]akup[at]gmail[dot]com

CONTACT NO.

9411195407
---
DESIGNATION

Assistant Professor

QUALIFICATION

Ph.D.

SPECIALISATION

Veterinary Public Health, Brucellosis
EMAIL

maansi2000[at]rediffmail[dot]com

CONTACT NO.

7839018262
---
DESIGNATION

Assistant Professor

QUALIFICATION

M.V.Sc.

SPECIALISATION

Antimicrobial resistance in foodborne pathogens, Meat Speciation
EMAIL

kumar310[at]umn[dot]edu

CONTACT NO.

7618382798
Detailed Information of PG students
| S.No. | Student Name | ID No. | Year of Admission | Advisor Name | Thesis Title (Tentative) |
| --- | --- | --- | --- | --- | --- |
| 1. | Anubha Pathak | 51155 | 2016-17 | Dr. S.P. Singh | --- |
| 2. | Pooja Singh | 52604 | 2017-18 | Dr. S.P. Singh | --- |
| 3. | Mr.Piyush Bisht | 43557 | 2017-18 | Dr. S.P. Singh | --- |
| 4. | Mr. Dayanath B. | 52763 | 2017-18 | Dr. S.P. Singh | --- |
| 5. | Mr. Shubham Saini | 43586 | 2017-18 | Dr. S.P. Singh | --- |
| 6. | Ms. Aastha Nagpal | 43567 | 2017-18 | Dr. S.P. Singh | --- |
| 7. | Tanuja Parmar | 41717 | 2016-17 | Dr. Ajay Kumar Upadhyay | Survey of Occupational Health Hazards In Indian Veterinarians |
| 8. | Richa Rautela | 41698 | 2016-17 | Dr. Maansi | Isolation, Identification and Molecular characterization of Listeria isolates obtained from an organized farm |
| 9. | Jaishree Sharma | 41696 | 2016-17 | Dr. Deepak Kumar | Molecular Epidemiology of Antimicrobial Resistant Non-Typhoidal Salmonella isolated from retail chicken meat shops |
| 10. | Sheeba Hussain | 41716 | 2016-17 | Dr. Deepak Kumar | Prevalence, antimicrobial resistance and molecular characterization of Salmonella isolated from conventional poultry farms |