Home
/
Colleges
/
College of Veterinary and Animal Sciences
/
Department of Veterinary Microbiology
/
Profile
---
Department of Veterinary Microbiology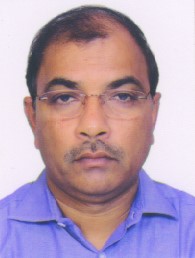 Dr. Rajesh Kumar
| | |
| --- | --- |
| DESIGNATION: | Associate Professor and In-Charge |
| QUALIFICATION: | B.V.Sc. & A.H, M. V.Sc., Ph.D. |
| SPECIALISATION: | Veterinary Microbiology & Immunology |
| EMAIL: | rajeshvet[at]rediffmail[dot]com |
| CONTACT NO.: | 9412404020 |
---
Research Areas/areas of interests
Molecular epidemiology of viral/bacterial infections of livestock/poultry
Development of new generation vaccines and diagnostics for viral/bacterial infections in livestock/poultry.
Pathogenesis of viral/bacterial infections in livestock/poultry
Selected Research Projects
Recombinant penton base and fiber proteins of inclusion body hepatitis-hydropericardium syndrome virus of poultry: Production and testing of immune-potential.
Selected Research Publications
Saxena, A., Kumar R. and Saxena, M. K. (2017). Vaccination with Salmonella Typhi recombinant outer membrane protein 28 induces humoral but non-protective immune response in rabbit. Veterinary World, 10:946-949.


Rani, V., Kumar, R., Upadhyay, A. K. and Kumar, M. (2012). Therapeutic Efficacy of Chicken Egg Yolk Immunoglobulins against hydropericardium syndrome in broiler Chickens. Indian Journal of Animal Sciences, 82(6):552-556.


Kumar, R., Kumar, V., Asthana, M., Shukla, S. K. and Chandra, R. (2010). Isolation and Identification of a Fowl Adenovirus from Wild Black Kites (Milvus migrans). Journal of Wildlife Diseases 46(1):272-276.


Kumar, R. and Chandra, R. (2004). Studies on structural and immunogenic polypeptides of hydropericardium syndrome virus by SDS-PAGE and western blotting. Comparative Immunology, Microbiology and Infectious Diseases, 27(3):155-161.


Kumar, R., Chandra, R. and Shukla, S. K. (2003). Isolation of etiological agent of hydropericardium syndrome in chicken embryo liver cell culture and its serological characterization. Indian Journal of Experimental Biology, 41(8):821-826.