Home
/
Colleges
/
College of Veterinary and Animal Sciences
/
Department of Veterinary Pharmacology & Toxicology
---
ABOUT US

ACADEMICS

FACULTY

PG STUDENTS

RESEARCH

PUBLICATIONS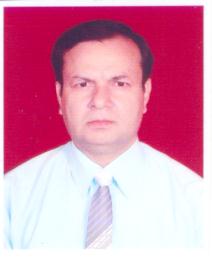 Profile
Dr. S.P. Singh

Head,

Department of Veterinary Pharmacology & Toxicology,

College of Veterinary and Animal Sciences




Contacts

Phone: 7500241448

Email: sppharma[at]rediffmail
[dot]com
About Us
Departmental Achievements:
Pharmacokinetic, pharmacodynamic and toxicity studies of drugs and new chemical entities.
Recommendation of rational dosage regimen of various chemotherapeutic agents based on the studies conducted in this department.
Investigation of residual concentration of drugs and pesticides in various biological samples.
Pharmacological screening of indigenous medicinal plants.
Toxicological evaluation of xenobiotics in animal and cell culture models.
Departmental facilities
B.V.Sc. & A.H., M.V.Sc. and Ph.D. degree programme.
Pharmacogenomic & Pharmacokinetic studies of drugs & chemical.
Toxicological evaluation of drugs pesticides.
Evaluation of Pharmacological activity of medicinal plants.
FACULTY NAME
---
DESIGNATION

Professor & Head

QUALIFICATION

Ph.D.

SPECIALISATION

Pharmacology & Toxicology
EMAIL

sppharma[at]rediffmail[dot]com

CONTACT NO.

7500241448
---
DESIGNATION

Professor

QUALIFICATION

Ph.D.

SPECIALISATION

Pharmacology & Toxicology
EMAIL

ahahmad1[at]yahoo[dot]com

CONTACT NO.

9410111639
---
DESIGNATION

Assistant Professor

QUALIFICATION

P.G.

SPECIALISATION

Pharmacology & Toxicology
EMAIL

disha32083[at]gmail[dot]com

CONTACT NO.

9411322701
Detailed Information of PG Students:
Student Name
ID. No.
Year of Admission
Advisor
Thesis Title (Tentative)
Ph.D. Students
Naveen Kumar
48201
II Sem. 2014-15
Dr. A.H. Ahmad
Evaluation of cytoprotective, immunomodulatory and antioxidant potential of Fenugreek against imidacloprid induced toxicity.
Richa Thakur
(ICAR-SRF)
51130
I Sem. 2016-17
Dr. S.P. Singh
Not Decided
M.V.Sc. Students
Manish Kumar Verma
41738
I Sem. 2016-17
Dr. A.H. Ahmad
Immunomodulatory activity of herbal plants
Parul Rawat
41671
I Sem. 2016-17
Dr. A.H. Ahmad
Haematobiochemical and antiosteoporotic activity of herbal plants
Vaibhay Singh
43596
I Sem. 2017-18
Not Decided
Not Decided
Samiksha Saklani
43600
I Sem. 2017-18
Not Decided
Not Decided
Poorna Chandra Patwal
43607
I Sem. 2017-18
Not Decided
Not Decided
Aswathy P.U. (ICAR)
52715
I Sem. 2017-18
Not Decided
Not Decided
Research projects in the department
1. Monitoring of drug residues and environmental pollutants
Dr. A.H.Ahmad (PI)
Funding agency: ICAR
Duration: 8 year
Project cost: 59 lacs
2. Evaluation of immunomodulatory activity of herbal plants
Dr. A.H.Ahmad (PI)
Funding agency: DIBER, DRDO
Duration: 1 year
Project cost: 7 lacs
Research Publications
Josh Kumar, S. P. Singh, and G. K. Choudhary, (2016). Pharmacological evaluation of leaves of Jatropha curcas L. for anti-diabeticactivity in alloxan induced diabetic rats. Indian Journal of Animal Sciences. 86 (4): 387–391.
Sanjay Sharma, S. P. Singh, A. H. Ahmad and G. K. Choudhary.(2016). Comparison of pharmacokinetic parameters and computation of dosage regimen of oxytetracycline following single i.v. administration in goat sheep and cattle calves. Indian J. Animal Sc. 86 (6):673-675
Anjineyulu Kothakota, J. P. Pandey, A. H. Ahmad, Anil Kumar and Wasif Ahmad. (2016). Determination and optimization of vitamin B complex in xylanase enzyme treated polished rice by response surface methodology. Journal of Environmental Biology 37(4): 543-550.
Disha Pant, S.P. Singh, and Kamal Pant, (2016). Ameliorating potential of Bacopa monnieri on oxidative stress following acetaminophen and alcohol induced toxicity in rats. J. Vet. Pharmacol. Toxicol. 15 (2):48-52.
Sakthi Karthikeyan, A. H. Ahmad, , Kamini Bisht, Neetu Bhatt, Disha Pande, K. Kandsamy. and T. Ramasamy, 2017 Pharmacokinetics of Ivermectin (Ivermic Super®) following Single Dose Subcutaneous Administration in Cattle Calves Current Trends in Biotechnology and Pharmacy Vol. 11 (1): 16-23