Home
/
Directorates
/
Student Welfare
---
ABOUT US

EDUCATION

HOSTELS

FINANCIAL AIDS

OTHER ACTIVITIES

FACULTY INVOLVED

NOTICES FOR STUDENTS
Dr. Salil Kumar Tewari

Dean Student Welfare

G.B. Pant University of Agriculture and Technology

Pantnagar – 263145, Uttarakhand, India




Contacts

Phone: 05944-233536 (O), 7500241465 (M)

Fax: +91-5944-233536

E-mail Addresses:

For General enquiry: dsw[dot]gbpuat[at]gmail
[dot]com

For students feedback: fbs[dot]dsw[dot]gbpuat[at]
gmail[dot]com
About Us
The office of the Dean Student Welfare provides ample scope, opportunities and facilities for the all round development of personality and leadership qualities among the students. Students participate effectively in the management of hostels, food services, games & sports, cultural and literary activities, professional societies in each college under the guidance of staff counselor.
The Student Welfare activities are divided into activities related to professional societies, Liberal Education, Physical Education, N.S.S. and N.C.C. The Professional Society activities are categorized as follows.
College-wise professional societies are functioning for the advancement of the professional skills of the students. The societies coordinate the literary and cultural activities. These societies organize professional lectures, scientific debates, discussions, essay competitions, scientific exhibitions, short stories and poem writing competition under the literary activities and the cultural activities are aimed at providing a forum for drama, music, dance and singing talents among the students of this University. A good infra-structure including a 900 seated University auditorium, two mini auditorium, college halls, musical instruments, double film projectors and audio- visual aids are available for the organization of various debates, Elocutions, Arts and Crafts, Music, Dance, Folk songs and Drama events besides other personality development professional competitions and contests. The members of the society elect their own office bearers who are responsible for organizing the activities under the guidance of staff counselor nominated by the Dean of the College concerned.
The following 9 professional Societies are functioning in the University to organize various activities at college/university level- Agricultural Society, Home Science Society, Veterinary Society, Science and Humanities Society, Post Graduate Society, Engineering Society, Management Society, Forestry & Hill Agricultural Society and Sanskritic Chetna Parishad.
Apply Online for National Meritorious Invention Awards of the year 2018
Liberal Education
Liberal Education programme/activities aims at the overall physical and mental development of the students and provid them opportunities to inculcate confidence and maturity among themselves. It also aims in development of specific talents and in giving opportunities to learn other national and foreign languages.

All Programmes running under Liberal Education are non-gradial. The programmes are French, German, Punjabi, Hindi, Tamil Languages, Personality Development, Physical Fitness and Yoga (For Boys and Girls separately), Education in Human Values Programme, Music & Dance, Drawing and Art and Painting, Dynamic parenting.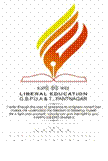 Physical Education
The University lays a great emphasis on the role of games and sports to keep the students physically efficient, mentally alert, morally sound and socially well behaved. These activities are organized through 17 games and sports clubs like Athletics, Badminton, Basket ball Cricket, Footwall, Gymnastics, Hockey, Indoor games, Kabaddi, Tennis, Kho-Kho, Squash, Swimming, Table Tennis, Wrestling, Volley ball and Yogic exercises under over all supervision of University Sports Council / Dean Student Welfare. The University provides sufficient games and sports material to all the hostels as well as University level teams. Sufficient numbers of central play grounds in addition to full fledges stadium, adequately equipped gymnasium Physical fitness centre and a swimming pool exist for athletic as well as sports and games events. All hostels are well equipped with play ground and sports material.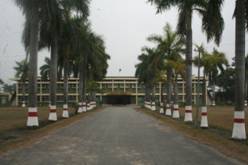 Stevenson Stadium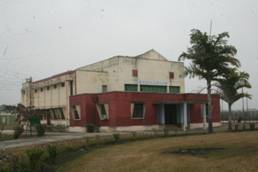 Gymnasium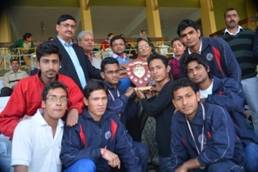 Winners of 46th Annual Athletic Meet (M)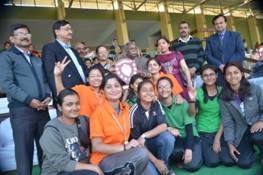 Winners of 46th Annual Athletic Meet (W)
Coaching Facilities
Coaching facilities are available in the University stadium for making the students efficient in various games. The students can contact the Physical Education Staff for guidance.
All Students are required to live in 22 hostels including nine hostels for female students and one for married students with separate arrangements for post-graduate and undergraduate students. The Chief Warden / Dean Student Welfare may exempt students from living in the hostel with the permission of Vice-Chancellor or taking food in the hostel cafeteria under certain circumstances. There is a common room with a colored T.V., with cable facility, internet, music room, indoor games room and a library having selected books, magazines and news paper etc., besides courts for Volley Ball, Badminton, Basket Ball and Table Tennis in all the hostels. The hostel cafeteria is equipped with refrigerator, water cooler and utensils in adequate quantity. Each hostel Cafeteria is run and managed by the students on cooperative basis. The students are required to vacate the hostel rooms in the summer vacations to facilitate annual repairs and white washing etc. All students residing in the hostel are to abide by hostel and cafeteria regulations/ rules. Every hostel has one P&T telephone with incoming facility.
During the formal functions the students are expected to wear white shirts, white pants during the summer and University blazer (Bottle green colour) with tie during the winter. During tournaments and competitions, the students are expected to be in the proper kit.
Financial Aid/ Bursaries/ Scholarships
Ph.D. Programme : Two University fellowships are awarded @ 3000/- p.m. on the basis of merit rating out of eligible students admitted in a major (discipline) for a period of 36 months. However, in case of sanctioned fellowships in a department remain unutilized due to non-availability of students in the Major same fellowship may be transferred to the students of other Majors.

Master's Programme : Master's degree students up to 50% of the total admission in respect of majors are awarded fellowship. Graduate Research/Teaching assistantship provided as per regulation on the subject. However, the value of fellowship will be of Rs.2000/- per month for the student who stands first in the merit and for the rest the value of the assistantship shall be Rs.900/- per month in each degree programme. GATE fellowships are provided to GATE qualified M. Tech. students for a period of 24 months.

Under Graduate Programme : Following are the details of financial assistance provided by the University to the first degree students:

University Merit Scholarship - Rs. 800/-p.m.

Bursary Scholarship for H.Sc. College - Rs. 600/- p.m.

Free ship in tuition fee - All Day Scholars and 25% of under-graduate students on the basis of merit cum means.

Sports Scholarship - Rs.800/- per month (Awarded to the best six all round sportsperson for four boys and two girls).
The financial assistance is available to 60-70% students. There are about 40 types of scholarships such as University financed scholarships, I.C.A.R., C.S.I.R., U.G.C., Harijan, Samaj Kalyan, Scholarship for backward, scheduled caste Scheduled tribes, Bank fellowships and other agencies, Individual Fellowships/Awards like Kribhiko, Aspee, Hank Hannah, Mandi Samiti, etc.
Alumni Association
The Association of old students of the University exits to keep close contact with the alumni and provides an opportunity to highlight their achievements in various fields of endeavors. It organizes various activities for the benefit of old students.
Student Counseling System
Students after admission to Undergraduate and Post-Graduate degree programmes are assigned to teachers for counselling and guidance.

Orientation Programme for students is organized in each College on College level.

Semester Progress report of every student is sent to their parents by advisors.

A Staff Counsellor for student's advisement for foreign study and scholarship is separately present.

A set book of rules and regulations of hostel cafeteria for the students is provided. Which are modified in the year 2004-2005 as per the need.
Food Services (Hostel Cafeterias)
Inmates of each hostel manage their own food services in the cafeteria attached to it on 'No Profit No Loss Basis' through the Hostel Food Committee. The cafeterias are equipped with modern gadgets and furniture, refrigerator, water cooler, water purifier, and LPG cooking gas connection. In some of the hostels cafeteria services are on contract basis.
Medical and Health Services
A full fledged University hospital under the supervision of a whole time Medical Officer In-charge-cum-ENT Surgeon, Two General Duty Medical Officer, a Lady Medical Officer, Eye Surgeon and Dental Surgeon render round the clock service to the students and staff members and their families with a weekly visit of orthopedic and Physician in addition to a State Allopathic Dispensary and a Ayurvedic Hospital at Phool bagh Centre. At present the hospital has three ambulances, an operation theatre and indoor ward comprising 60 beds for male and female patients. There are separate ward for Male and female student. All the serious cases are referred to Mission Hospital, Bareilly, Sri Ram Murti Smarak Institute of Medical Sciences, Bareilly, Sushila Tiwari Medical College or nearest Government Hospital by special arrangement. A Pathology Laboratory facility is also available for routine investigation
Mediclaim Facilities
University has implemented a Mediclaim policy through United India Insurance Company Ltd. for the students of the university from the academic year 2009-2010 under which facilities for reimbursement of treatment bills up to the extent of Rs. 65,000.00 in a year are available in different hospitals. The provision for insurance of accidental death of student/parent also exists to the extent of 2,00,000.
Counseling Cell
Final year students are provided guidance in seeking higher education in India and abroad and also the fellowship/scholarship available for these studies through a counselling cell. A staff member helps and guides the final year students in securing admission and fellowship for higher studies.
National Service Scheme
In the National Service Scheme, each student participates to earn two credits during his degree programme either by attending a 10days special camp organized in the adopted colony and completing 240 hours in two years in regular activities. This work is supervised by Coordinator, N.S.S. Students are required to work in villages under this scheme.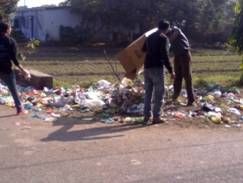 Garbage Disposal by NSS students
Tree plantation by NSS students
National Cadet Corps (NCC)
N.C.C. was established in one company of National cadet corps is being run on the campus. Those registering for N.C.C. have to do it continuously for two semesters to earn N.C.C. 'B' certificates. A NCC 'Remount Veterinary Core' is established in 2003-2004 for the students of the College of Veterinary Medicines & Animal Science. A N.C.C. Air wing is also established recently in 2004-2005 for exposure of University students.
Other General Activities
Travel facilities: To facilitate, traveling by students going to their homes during the semester break and to undertake study tours in different parts of India, railway concession orders are arranged for them.

Shopping facilities: The University shopping Centre and a similar shopping centre has come up in between Vishveshvariaya Bhawan & Shastri Bhawan, provides all types of day to day shopping facilities needed by the students.

Celebration of National Festival: Independence Day, Republic Day etc. are celebrated in a befitting manner.

Picnic and Hiking: A few picnics to the place of scenic beauty away from the campus are arranged as and when desired and feasible.
Student Discipline
A student is expected to reflect under all the circumstances proper respect for order, morality and rights of others and such sense of personal honor as demanded by a good citizens. The University reserves the right to drop any student whose conduct is deemed improper or prejudicial to the good order and interest of the University. The serious cases of indiscipline are referred to the University Discipline Committee. The overall discipline at the present juncture is encouragingly good.
Faculty associated with Student Welfare Activities:
Dr. Salil Kumar Tewari, Dean Student Welfare
Dr. Gurdeep Bains, Asstt. Dean Student Welfare
Dr. Shobhit Gupta, Asstt. Dean Student Welfare
Dr. Deepa Vinay, Coordinator, Liberal Education
Dr. Ritu Singh, Coordinator, NSS
Dr. Sudhir Kr., Coordinator, NCC
Dr. G.S. Bohra, Associate Director (PE)
Sri Bhaskar Tewari, Associate Director, (PE)
Sri H.S. Papola, Associate Director, (PE)
Ms. Poonam Tyagi, Associate Director, (PE)
11 Staff Counsellors of different Professional Societies
19 Staff Counsellors for games & sports activities.
13 Faculty associated with Liberal Education
04 NCC Officers
14 NSS Programmes Officer
---