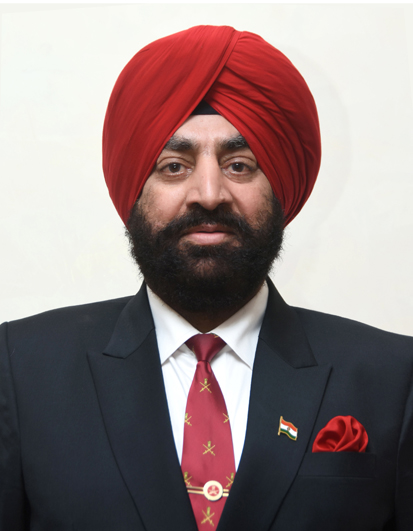 Lt. Gen (Retd.) Gurmit Singh
PVSM, UYSM, AVSM, VSM
Hon'ble Chancellor
It gives me immense pride to partake in the modernization of one of the best Universities in India. Located in the foothills of the Himalayas, the Govind Ballabh Pant University is India's first University of Agriculture and Technology and the second largest in the world in terms of contiguous area. Significantly pushing ahead the 'Green Revolution', it has also made the country self-sufficient in food production and is the ONLY Agriculture University in India to have made it to the World QS Ranking (2021).
With six glorious decades of achievements in creation of human resources in agriculture and allied sciences, the University has also succeeded in establishing a strong research system, thereby changing the productivity level of many crops. It has been a great contributing factor in the progress of the nation, with its alumni leading in almost every sector. GB Pant University has taken remarkable steps towards modernizing the food development sector of India by inculcating strong values and ethics in their students who are exemplary in their pursuit of excellence.
To further the celebration of 'Azadi ka Amrit Mohotsav', the University's aim is to shift towards the development of the Himalayas and the State of Uttarakhand. Addressing the agricultural and social problems of the state, the University aims to utilize its manpower and well-built infrastructure to provide solutions to the farmers, re-invigorating the hill agriculture and preventing migration (movement of people from villages in the hills to cities in the plains).
In its endeavour of imparting excellent education and imprinting morals and ethical values in young minds, many awards have been bestowed upon this respected University, in recognition of its greatness and contribution to society. And this is a feat Uttarakhand is extremely proud of.
Due to the harmful impact created by the current practices of agricultural production, I find there a need to build a more sustainable environment. The way to move forward with this would ironically be for the University to go back and revisit traditional practices such as organic and natural farming, alongside newly emerged and advanced technology, thus not only helping provide a finer approach to food production but working towards ecological sustainability and environmental security.
I assure you that with the committed efforts of the scientists and staff, GB Pant University, will help in modernizing not only the state but in a few years, also the country.
And, I am optimistic that this will serve as an opportunity to bring forth the Ever- Green Revolution, and ensure that the true workers – our farmers are well appreciated and economically independent. "If the farmer is rich, then so will be the Nation."
Jai hind.
Lt. Gen (Retd.) Gurmit Singh
PVSM, UYSM, AVSM, VSM