Home
/
Colleges
/
College of Veterinary and Animal Sciences
/
Department of Veterinary Medicine
/
Profile
---
Department of Veterinary Medicine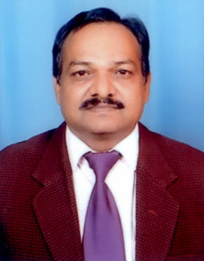 Dr. J.L. Singh
| | |
| --- | --- |
| DESIGNATION: | Professor, VMD / Additional DSW |
| QUALIFICATION: | Ph.D. |
| SPECIALISATION: | Veterinary Medicine |
| EMAIL: | drjlsing[at]rediffmail[dot]com |
| CONTACT NO.: | 05944-233066, 9410119561 |
---
Area of Interest:
Wildlife Medicine
Research Project:
In Operation

Tribal Sub Plan Project, Sub- Component: Small Ruminants. ICAR Funded
Selected Research Publications
Tufani, N.A.,Singh J.L., , Kumar, Mahesh , Ahmad ,A.H., & Das, Arup Kr., (2017) Differential Diagnosis of acute versus chronic renal failure in canines with special reference to Clinical manifestations . Medical Science , Vol. 21 No 84 , March –April Pp 66-74


Kandpal , Nitin ,Singh J.L., Das , Arup Kr., Rastogi,S.K. & Kumar, Mahesh (2016) Comparative Therapeutic Evaluation of Steroids for management of Spondylosis in Canines . International Journal of Pharmacology & Therapeutics , 06 (1),1-8


Singh, J.L., Satyendra Kumar and Mahesh kumar (2013). Development of field package of practice for the management of endemic Goitre in goats Indian Journal of Veterinary Medicine 33(2):79-86


Singh, J.L.; Sharma, M.C.; Kumar, Mahesh; Gupta, G.C. and Kumar Subodh (2006). Immune status of goats in endemic Goitre and its therapeutic management. Small Ruminant Research;63;249-255


Singh, J.L.; Sharma, M.C.; Kumar, M.; Rastogi, S.K.; Gupta, G.C.; Singh, S.P.; Sharma, L.D.; Gandhi, V.K. and Kalicharan (2002). Assessment of therapy in Goitrous goats through some cardiac function tests. Small Ruminant Research. 44: 659-665.


Singh, J.L. and Swarup, D. (1995). Clinical observation and diagnosis of fluorosis in dairy cows and buffaloes. Agri-Practice. 16: 25-30.