ABOUT US

ACADEMICS

FACILITIES

FACULTY

RESEARCH

LINKAGES

PUBLICATIONS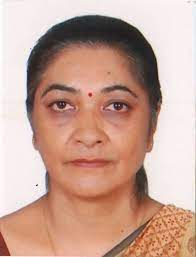 Profile
Dr. Anuradha Dutta

Head,

Department of Food & Nutrition,

College of Home Science




Contacts

Phone: +91-5944-233509

Email: aduttagbpuat[at]
gmail[dot]com
About Us
Mission
Mission of the department is to provide knowledge and skills for being active partners in healthful development of the community; forge interactive relationship with the food/health industry; develop food processing technologies for value-addition with focus on domestic/global market; facilitate employment opportunities for economic empowerment of women and youth.
Mandate
To provide professional knowledge and relevant skills in the subject areas.
To develop research projects on quality analysis of food crops; product formulation and quality evaluation; nutritional surveillance, intervention and impact assessment.
To provide knowledge of nutrition to the rural communities especially of Uttarakhand for their better health and well being.
To impart training on food processing of agricultural produce for promoting entrepreneurship.
Objectives:
Offering undergraduate and postgraduate education in food science and nutrition to enable the students to become active partners in healthful development of all the members of society/ community.
Conducting research in food science, nutrition, and addressing nutrition and diet related problems, making the results available through publication in professional journals and extension activities.
Furnishing current and objective information about food science and nutrition to all policy makers, government leaders, and to those engaged in processing and distributing food and those affecting food selection.
Read More..
Following facilities are provided by the department:
Food Quality Analysis Lab
Postgraduate Research Lab
Catering Lab
Product development Lab
Fruit and vegetable processing lab
AICRP Lab
Thrust of Research in the department:

Quality evaluation and value addition of various food crops.
Development of nutraceutical/ functional foods using millets, soybean, bran/husk of grains, legumes, leaves, medicinal plants and spices.
Action research for creating public awareness of nutrition, health and safe food.
KAP studies on nutrition hygiene and food safety of street food vendors, food handlers and consumers.
Feasibility studies for food supplements to be used in government programmes.




Work undertaken:

Quality evaluation of foods including spices; under quality evaluation emphasis is laid nutrient and antinutrients content of foods such as fruits, legumes, soybeans, roots and tubers, green leafy vegetables and uncommon foods of Uttaranchal and Uttar Pradesh. Foods stuffs are also characterized for their cooking and sensory qualities.
Product formulation of various kinds of food products for their physicochemical characterization and nutrients and sensory qualities is undertaken. Feasibility studies for food supplements to be used in government programmes.
Surveillance is done for assessing the major nutritional problems of women, children and aged and the factors strongly associated with causation of malnutrition so that appropriate education/intervention can be taken up.
Nutrition intervention and evaluation of success of national programmes on nutrition is undertaken. Nutrition education material is developed and nutrient food supplement are fed to the malnourished children and the impact on nutritional status is assessed.
KAP studies on nutrition hygiene and food safety of street food vendors, food handlers and consumers.
Action research for creating public awareness of nutrition, health and safe food. Extending of the basic knowledge of nutrition to rural community (women, youth and children specially) and imparting training in food processing and preservation of specific crops and correct diet in different conditions.




Areas Explored in Research:

Studies were conducted on cropping pattern, food consumption and nutritional profile of population groups in different districts of Uttarakhand. Trainings on utilization on various food crops of Uttarakhand to women groups in different villages were also imparted.
Products for consumption at home level and to be commercialized by using different cereals, millets and minor millets, soybean and different fruits like kaku, kiwi fruits, plums, apricot were developed and intervention for suitability for use by people of Uttarakhand were undertaken.
Use of various millets of Uttarakhand, finger millet, barnyard millet, foxtail millet and oats as diabetic food was explored and glycaemic index of various food products from these crops were studied.
Sweet potato flour, papaya powder, carrot powder and use of GLV powder and wheat grass powder mulberry leaf powder for improving food and nutritional security were explored.
Value added products from amla, mushroom, aloe Vera, ashwagandha were prepared.
Use of wheat bran and chickpea husk and Moong bean husk as a high fibre substitute in preparation of various traditional recipes as cure for various GI diseases and diabetic food was explored.
Studies on hygiene and safety of street bended foods were conducted in Dehradun and Rudrapur cities of Uttarakhand. Trainings on hygiene and food safety were imparted to the food vendors of Rudrapur city and facilities of improving the conditions of these street bended foods were given to the district administration.
Quality analysis of organically produced rice, wheat, lentil, channa, peas, moong and ginger and turmeric were conducted to see the change with respect to inorganically produced crops.
Cooking quality, nutritional quality of improved cow pea variety and product formulation were undertaken.

Prospective Research Technologies Developed for Adoption by Farm Women as Well as for Commercialization

Potato flour and products like sev, biscuits, extruded snacks, vermicelli etc made from potato flour.
Food products for diabetics based on small millets.
Weaning foods made from popped and germinated millets.
Dehydrated vegetable powders like green leaf powder, carrot powder, tomato powder and banana powder and products made to enrich with important phytochemical like Carrot powder soup and halwa mix.
Defatted soy flour products ; Nankhatai, Mysore pak, ice cream, soy sev, biscuits.
Dehydrated peach powder and apple pomace powder in bakery products.
Sweet potato flour and its product like gulab jamun mix etc.
Food products from mulberry leaves ,Mushroom pickle ,Mushroom powder amla based product (Amla bar) ,Wheat grass powder Aloe Vera powder,jam from kiwi fruit, kaku , plum and apricot.




PRODUCTS FORMULATED






TRANING ON FOOD HYGIENE TO STREET FOOD VENDERS UNDER WORLD BANK PROJECT



LINKAGES:
The Department has linkages with many food processing industries where final year B.Sc. Home Science vocational (Foods and Nutrition) students go for In-Plant-Training. These include: Almora Milk Producers Coop Union Ltd. Almora; Bokaro Dairy, COMFED, Bokaro; Nainital Fruit Products, Bhowali; Kanak Food Products, Haldwani; Bajaj Foods, Saharanpur; Shri. Ram Murti Smarak Institute of Medical Sciences Bhojipura, Bareilly and lot more.
Besides this, the Department has established linkages with many hospitals viz. CMC, Ludh1ana; AIIMS, New Delhi and PGI, Chandigarh, Where M.Sc. students receive training in Dietetics under the course Practical Nutritional care in Disease.
In addition the Department conducts research work through various research project financed by ICAR, UCOB, WEF, ICMR and many more.
The Department has added advantage of availing expertise and research facilities from different college of the University; hence M.Sc. and Ph.D. students are doing excellent research/thesis work.
Programme Study Centre of IGNOU for M.Sc. in Dietetics and Food Service Management (DFSM) and PG Diploma in food Safety and quality management.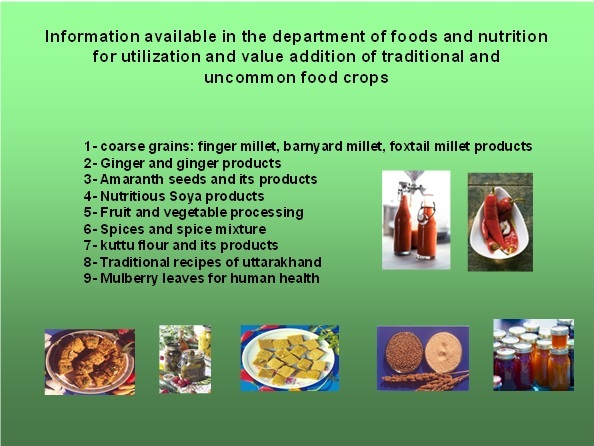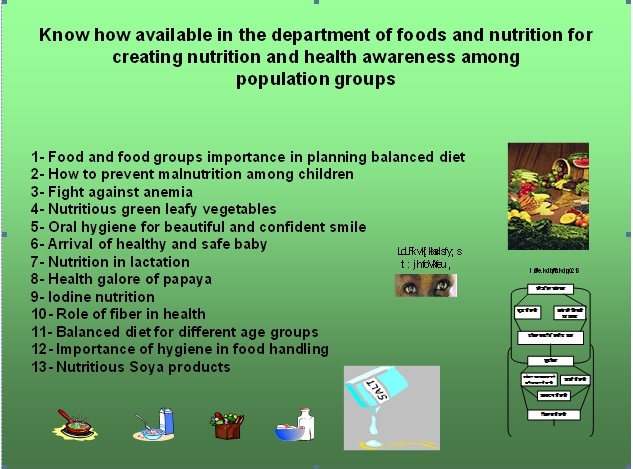 | | | |
| --- | --- | --- |
| Study on Comparative Analysis of Body Composition Changes in Hypothyroidism | 2014 | The Indian Journal of Nutrition and Dietetics 51 (3), 279-285 |
| Effect of processing techniques on nutritional composition and antioxidant activity of fenugreek (Trigonella foenum-graecum) seed flour | 2015 | J. Fd. Sci. and Technol 52(2), 1054-1060 |
| Impact of nutrition education on nutritional knowledge, attitude and practices of HIV patients attending ART centre of Susheela Tiwari Hospital, Haldwani, Uttarakhand,India. | 2015 | International Journal of Life Sciences.3 (1):1-8. |
| Sprouting characteristics and associated changes in nutritional composition of cowpea (Vigna unguiculata). | 2015 | Journal of Food Science & Technology 52(10): 6821–6827 |
| Yield and acceptability trial of mix fruit jams from Gola pear | 2015 | Journal of Environmental and Applied Bioresearch 3(3): 133-136 |
| Barnyard millet as a substitute of rice in preparation of Khichdi for diabetics | 2016 | International Journal of Science and Research 5(6):1798-1802 |
| Peach Juice and Pomace Powder; Nutritive Value and Use of Pomace Powder in Biscuits | 2016 | International Journal of Food Science and Technology (IJFST) Vol.6,Issue3,Jun 2016,5-16 |
| Market and customer survey about availability and use of masala powder/pastes | 2016 | International Journal of Applied Home Science Volume 3 (1&2), January & February (2016) : 42-46 |