Home
/
Colleges
/
College of Veterinary and Animal Sciences
/
Department of Veterinary Physiology & Biochemistry
---
ABOUT US

ACADEMICS

FACULTY

PG STUDENTS

ACHIEVEMENTS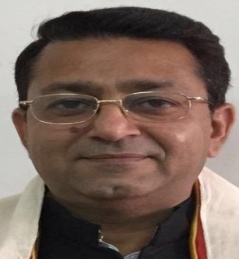 Profile
Dr. Tanuj Kumar Ambwani

Head,

Department of Veterinary Physiology & Biochemistry,

College of Veterinary and Animal Sciences




Contacts

Phone: 9411538592

Email: tambwani[at]yahoo[dot]com
About Us
Departmental Facilities
Compound microscope
Deionizer and distillation assembly
Electrocardiograph
Pulse oximeter
Spirometer
Computerized Electroencephalograph
Single channel Physiograph
Kymographic assembly
Spectrophotometer
UV-VIS spectrophotometer
Gel-Doc System
Incubators and laboratory ovens
Agarose Gel electrophoresis
Thermocycler
pH meter
Cooling centrifuge
Water bath shaker
Hybridization oven
Laminar air flow
Gradient PCR
Electroporator
| Name of the student | ID. No. | Year of Admission | Name of Advisor | Thesis Title (Tentative) |
| --- | --- | --- | --- | --- |
| Dr. Megha Verma | 39849 | 2017-18 | Dr. S.K. Rastogi | Yet to be decided |
Achievements:
Lactation Physiology: A kit for successful induction of normal reproductive cyclicity, pregnancy and lactation has been developed for non-productive cattle and buffaloes using natural or synthetic reproductive steroids. The technology has been used extensively at University Farm and by field veterinarians.


Endocrinology: Radio-immunoassay technique for steroid hormones estimation in plasma and milk samples has been developed. Milk samples can be adequately used in place of plasma for studying steroid hormone status in lactating animals and correlating with reproductive disorders.


Neurophysiology: This department is the first in whole India to develop a stereotaxic atlas for brain centers controlling rumino-reticular motility located in medulla oblongata about 1 mm caudad and 9 mm cephalad to the obex in the buffalo calves which is not possible without the atlas. This work receives International Recognition as it is quoted in a Text Book "Dukes" Physiology of Domestic Animal which is referred by all students of Veterinary Sciences throughout the World.


Clinical Physiology: Renal function tests have been performed first time in female buffalo calves showing glomerular filtration rates and renal plasma flow. Exogenous creatinine clearance was found to be better index for GFR than its endogenous clearance in buffaloes.


Digestive Physiology: This Department was one of the first Departments in this country which had isolated, purified and classified as many as 28 species of bacteria in the rumen of cattle and buffaloes.


Production Physiology: Treatment with epinephrine alone and propanol alone reduced the egg production in birds to the extent of 21-27% and 10-13% respectively, but when propanolol given to birds pretreated with epinephrine, the fall in egg production was lower. Supplementation of phytase in broiler and layer ration found to improve growth, feed conversion efficiency and egg production.


Growth Physiology: Virginiamycin (2.0g/100kg feed) produced best growth and feed conversion ratio with significant improvement in protein content in carcass of broilers. Leptaden (2 g/kg feed) promoted weight gain and egg quality in layers. Liv-52 decreased age at first laying & increased number of eggs laid.