Alumni Association
The Association of old students of the University exits to keep close contact with the alumni and provides an opportunity to highlight their achievements in various fields of endeavors. It organizes various activities for the benefit of old students.
Student Counseling System
Students after admission to Undergraduate and Post-Graduate degree programmes are assigned to teachers for counselling and guidance.

Orientation Programme for students is organized in each College on College level.

Semester Progress report of every student is sent to their parents by advisors.

A Staff Counsellor for student's advisement for foreign study and scholarship is separately present.

A set book of rules and regulations of hostel cafeteria for the students is provided. Which are modified in the year 2004-2005 as per the need.
Food Services (Hostel Cafeterias)
Inmates of each hostel manage their own food services in the cafeteria attached to it on 'No Profit No Loss Basis' through the Hostel Food Committee. The cafeterias are equipped with modern gadgets and furniture, refrigerator, water cooler, water purifier, and LPG cooking gas connection. In some of the hostels cafeteria services are on contract basis.
Medical and Health Services
A full fledged University hospital under the supervision of a whole time Medical Officer In-charge-cum-ENT Surgeon, Two General Duty Medical Officer, a Lady Medical Officer, Eye Surgeon and Dental Surgeon render round the clock service to the students and staff members and their families with a weekly visit of orthopedic and Physician in addition to a State Allopathic Dispensary and a Ayurvedic Hospital at Phool bagh Centre. At present the hospital has three ambulances, an operation theatre and indoor ward comprising 60 beds for male and female patients. There are separate ward for Male and female student. All the serious cases are referred to Mission Hospital, Bareilly, Sri Ram Murti Smarak Institute of Medical Sciences, Bareilly, Sushila Tiwari Medical College or nearest Government Hospital by special arrangement. A Pathology Laboratory facility is also available for routine investigation
Mediclaim Facilities
University has implemented a Mediclaim policy through United India Insurance Company Ltd. for the students of the university from the academic year 2009-2010 under which facilities for reimbursement of treatment bills up to the extent of Rs. 65,000.00 in a year are available in different hospitals. The provision for insurance of accidental death of student/parent also exists to the extent of 2,00,000.
Counseling Cell
Final year students are provided guidance in seeking higher education in India and abroad and also the fellowship/scholarship available for these studies through a counselling cell. A staff member helps and guides the final year students in securing admission and fellowship for higher studies.
National Service Scheme
In the National Service Scheme, each student participates to earn two credits during his degree programme either by attending a 10days special camp organized in the adopted colony and completing 240 hours in two years in regular activities. This work is supervised by Coordinator, N.S.S. Students are required to work in villages under this scheme.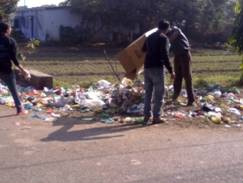 Garbage Disposal by NSS students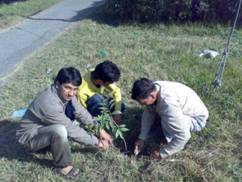 Tree plantation by NSS students
National Cadet Corps (NCC)
N.C.C. was established in one company of National cadet corps is being run on the campus. Those registering for N.C.C. have to do it continuously for two semesters to earn N.C.C. 'B' certificates. A NCC 'Remount Veterinary Core' is established in 2003-2004 for the students of the College of Veterinary Medicines & Animal Science. A N.C.C. Air wing is also established recently in 2004-2005 for exposure of University students.
Other General Activities
Travel facilities: To facilitate, traveling by students going to their homes during the semester break and to undertake study tours in different parts of India, railway concession orders are arranged for them.

Shopping facilities: The University shopping Centre and a similar shopping centre has come up in between Vishveshvariaya Bhawan & Shastri Bhawan, provides all types of day to day shopping facilities needed by the students.

Celebration of National Festival: Independence Day, Republic Day etc. are celebrated in a befitting manner.

Picnic and Hiking: A few picnics to the place of scenic beauty away from the campus are arranged as and when desired and feasible.
Student Discipline
A student is expected to reflect under all the circumstances proper respect for order, morality and rights of others and such sense of personal honor as demanded by a good citizens. The University reserves the right to drop any student whose conduct is deemed improper or prejudicial to the good order and interest of the University. The serious cases of indiscipline are referred to the University Discipline Committee. The overall discipline at the present juncture is encouragingly good.